Considering limited production space, Tianli Thermal design one gas fired bogie hearth furnace with single wing. This kind of bogie hearth furnace has one single wing door that can open from one side. This structure can effectively resolve the problem of workshop's height.
The below is one 3D design model, if you have requirements,please contact us.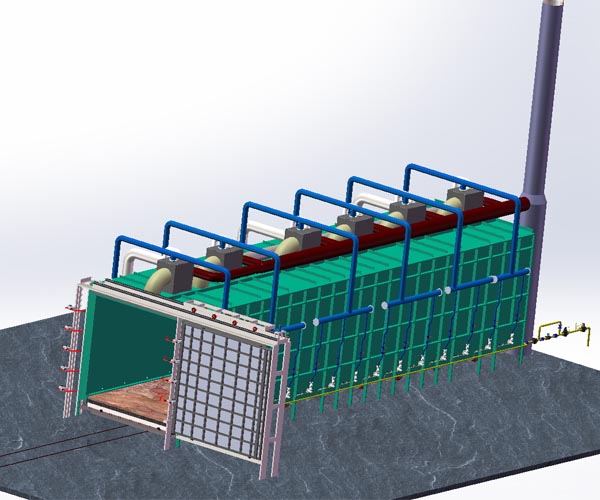 Tianli Thermal, we are professional heat treatment furnace manufacturer with over 20years in China. Now we had successfully entered into New Over-The-Counter Market. The stock code:872609. Our main products have large scale gas fired bogie hearth furnace, box type electric furnace, pit type atmophere protection furnace and continuous production line.
Gas fired bogie hearth furnace is belong to one clean energy equipment, so in order to reduce environmental pollution, many large enterprises choose gas fired bogie hearth furnace during heat treatment production. It can reduce environment pollution, and also can save energy comsuption during long term production.
Of course, for gas fired furnace, safety is one important technical parameter in its running period.We adopt "3+1" multi-protection design, this design can realize automatic close gas when equipment is ou of order. The first grade protection is burner controller, second garde protection is SIEMENS PLC control, third garde protection is IPC.
Tianli Thermal, now our gas fired bogie hearth furnace had been exported to America, Russia,Malaysia,Vietnam,Thailand,etc. Any more details,please contact us. Email:[email protected]